Threatened Beauty
Works by Andi Arnovitz
L.A. Mayer Museum for Islamic Art, Jerusalem
March 16, 2015 through May 15, 2015
Like a flying carpet, Andi Arnovitz' latest works transport us to a world of gem-like color, where aesthetics and destruction meet in a deceptively beautiful dystopia.  Her current show, "Threatened Beauty," which opened March 16, 2015 at the L.A. Mayer Museum for Islamic Art in Jerusalem, contains some thirty works that deal directly or indirectly with subjects on the world's mind right now, a nuclear Iran and the reign of terror and destruction by ISIS. Prime Minister Benjamin Netanyahu's recent controversial speech in Congress focused the world's attention on the threat posed by Iran's thrust towards nuclear power, yet also referenced that civilization's glorious past.
Arnovitz has taken one aspect of that past, Iran's rich artistic heritage, and, with watercolor and collage, used the intricate and colorful motifs of traditional Persian and Oriental art—rugs and miniatures—to portray both the fear and dissonance of life led in Israel, which borders on Syria, where ISIS operatives are fighting, and which is within missile range of an Iran that is at most three years away from the uranium bomb by their own admission and that calls Israel a festering Zionist tumor. In the words of the artist:
"These new creative works reflect this tension-  the majestic beauty- the riot of color, the magnificent decoration, the meticulous craftsmanship of these arts which I so love on the one hand, and the potential for disaster and my own personal fears on the other."
The works depict both the prelude to potential destruction—as in "Facing Jerusalem" or "Fordow Underground" (one of the underground reactors hidden from inspectors until 2009) and some of the imagined results of destruction, but in a deceptively beautiful way.
The fish floating in "Heavy Water II" could be part of a royal aquarium or fountain, so life-like and tranquil, if not for the realization that they have the glassy and vacant eyes of dead creatures.
---
"Mutant Flora and Fauna," takes traditional Persian artistic motifs and turns them into new and strange creations; "Displaced" shows endless rows of individuals, both adults and children, moving to unknown destinations in the wake of destruction.
---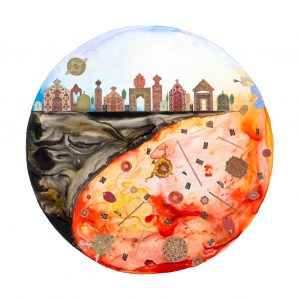 In "The Tipping Point"—black iridescent Iranian oil flows underground, but at any given moment it could be ignited to unleash an inferno. What might bring that moment on?
---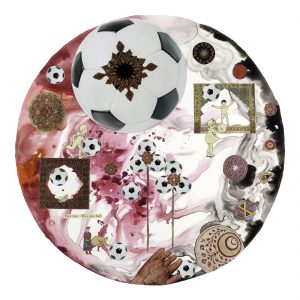 The work "Thirteen Boys," deals with 13 teenagers who were summarily executed by ISIS for watching the Asian Cup soccer game on television in Mosul in January 2015.
---
Words do not do justice to these works, which are at once both visually pleasing and deeply disturbing.  How  can this tension be sustained?  Could the heirs of such a rich and aesthetic civilization unleash destruction?  One's answer may depend on where one sits. Let us hope that these works will not be prophetic, but only serve as a cautionary tale, a kind of "Thousandth and Second Night"  that will remain in the realm of the imaginary.
Arnovitz is a prolific and versatile artist, working in many media, from textiles to ceramics, in black and white and in color. Her themes include the plight of the Agunah, the delicate balance between Jewish law and Jewish life, and the anxieties of life in general and particularly of living in the Middle East:  suicide bombings and a nuclear Iran. This show offers an opportunity to see another facet of the artist's fascinating body of work. The L. A. Mayer Museum for Islamic Art  is to be commended for exhibiting these works and confronting the questions raised by "Threatened Beauty."
Update 2018: Andi Arnovitz's latest works